Monkey ~31 months
Baby Red~ 11.5 months
Letter O~ African Animals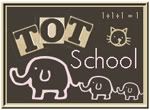 Baby Red enjoyed her first full week of Tot School this week and you can see what activities I did with her here. I forgot to include a few of her activities so I am going to squeeze them in this post :)
Playing with a paint bag filled with Valentine's Day themed paints. I found this idea on Pinterest.
She enjoyed squishing the paint and one point I gave her a play hammer so that she could pound the paint too.
Working on a Melissa and Doug puzzle. This was hands down Monkey's favorite thing when she was Baby Red's age. She played with this puzzle every day for what seemed like hours. Love her expression in this picture.
Baby Red enjoyed finding the puzzle pieces when I would "hide" them for her.
Monkey worked on her tot school printables and really enjoyed them this week. Here she is being assisted by a Gorilla. Her tracing skills have improved a lot lately. She is actually making an effort to try and trace the letters. Before now, it was just not that important or interesting to her.
Monkey chose to match all of her animals to the vocabulary page all of her own accord. She was not too happy that we did not own a hyena or an ostrich for her to match.
Monkey really enjoyed doing the five little owls poem that was included in the pack. She asked to do it over and over which is rare for her!
Again, the tracing skills have definitely come along recently. Monkey has always seemed a little developmentally behind in her fine motor skills and I am happy to see her making such good progress lately! She is a bit of a perfectionist like her Daddy, lol. This means she will usually refuse to do an activity unless she can do it exactly the way she thinks it should be done.
We finally did a roll and graph game for the first time this week. I normally leave them out because I did not think they would be developmentally appropriate for her. She still didn't quite understand the whole concept but loved playing. In fact, the little stinker got it in her head that she was racing against me and that she was the blue owl. So, she kept trying to barely move the die so it would land on the blue owl every time, lol! She is too smart.
We did some artwork too. This is a hand print tree with two little owls sitting in it.
A snowy owl using construction paper, coffee filters for the wings, white feathers, and wiggly eyes.
A Hand print owl that was adapted from an idea I saw on Our little Monkeys.
A letter O owl that Monkey made pretty much all by herself. This was another idea that was included with the owl tot pack.
My favorite picture of the week... My two sweeties enjoying books in the Lazy Boy.
Next week we will be learning about Letter T and transportation. I am really excited about it!